Rose of Jericho (Selaginella lepidophylla) called resurrection or dinosaur plant as well. It looks like dead but it can resurrect! Most amazing and intriguing plant in the world, an ancient symbol of love and happiness! Rose grows in dry desert regions where it is perfectly adapted to survive under such drought. It stays alive even when there is no rain for years. It curls in on itself, forming a little tumbleweed-like ball of vegetation in which it protects itself until the rains come. It blows around the desert freely, opening its fronds when the conditions are moist enough.
As soon as there is enought water the "dead" bundle, becoming a soft, fern-like plant with green fronds. Our rose is actually a quite primitive plant – much like a living fossil, so some call Rose of Jericho the "Dinosaur Plant".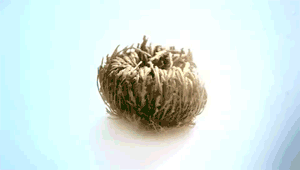 Many people enjoy looking at miraculous recovery, and allow their plants to shrivel up completely between waterings. It is desert plant so it need longer dry periods between waterings. 
Hint: Probably one and only plant which can be "treated" with the hot water! Wetting with hot (boiling) water may lead to opening of the rose of Jericho in 10 minutes, as compared to 30 minutes with water at room-temperature.